It's always a great day when you get to spend it with visiting wine makers. For me I find it so fascinating to get a look into their lives, to see the drive and inspiration behind their wines. I was excited to enjoy a lovely Luncheon with Amélie Dugué-Couillaud, where I was introduced to her Les Frères Couillaud, via virtual wine travels to their gorgeous winery located in the Garden of France, the Loire Valley located at Château Ragotiere!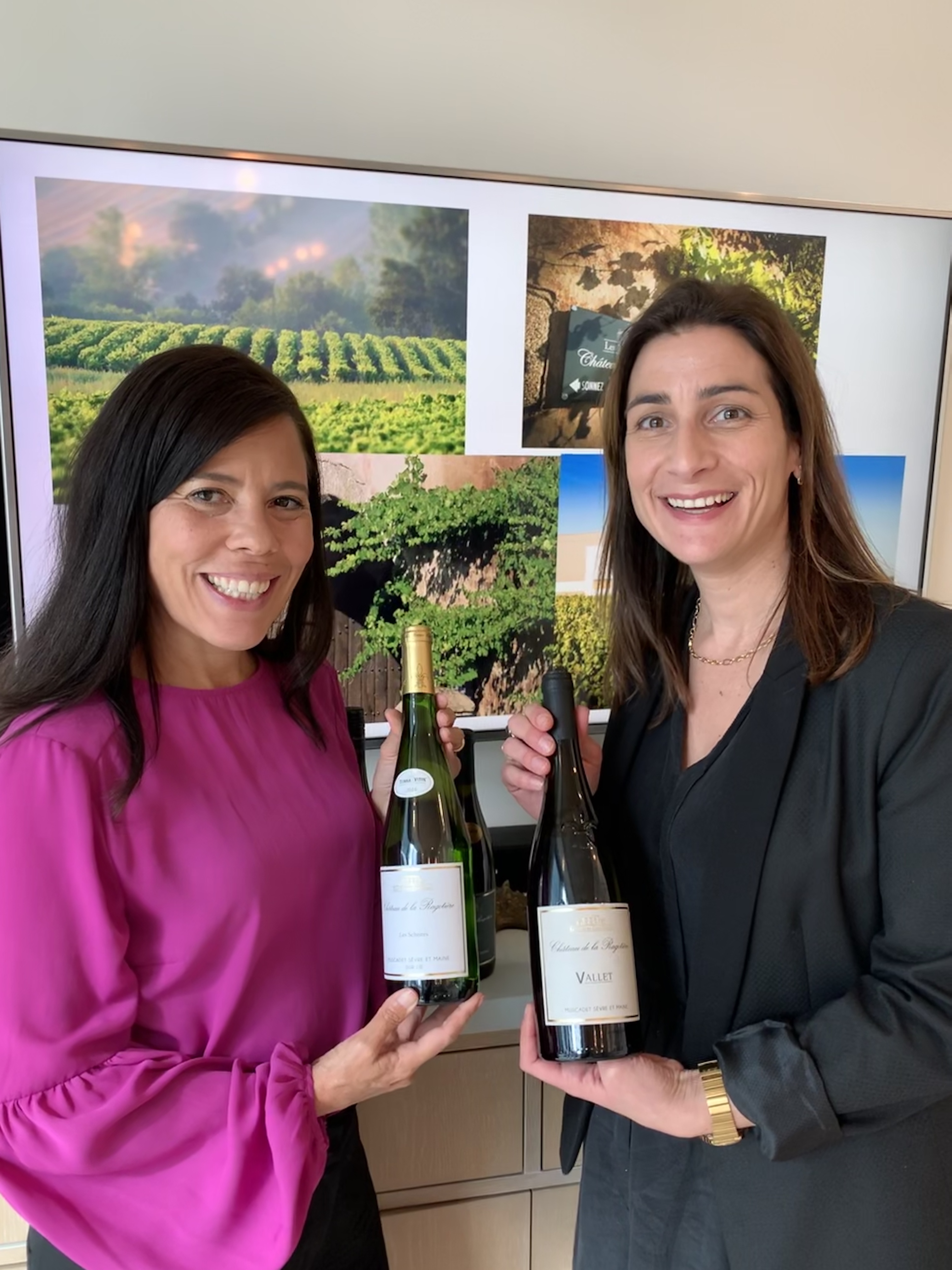 The Château is located on the highest point of the Nantes Muscadet growing region. The soils are schist (crystalline rock based soil that retains heat well and is rich in magnesium and potassium) which leads to a wine with a crisp minerality component. These stunning atypical Muscadet are indeed fresh, and crisp with that bright minerality. However, Les Freres wines are late harvested, kept on the vines longer in order to enhance the maturity and flavors of the grapes. Additionally, the wine is also kept on the lees longer (Wines aged sur lie, French for "on the lees" are kept in contact with yeast and are not quickly filtered) which adds added textural creaminess, fatty acids, aromas and flavors in the wine like sweet caramel notes, smoke, clove, brioche flavors, and vanilla.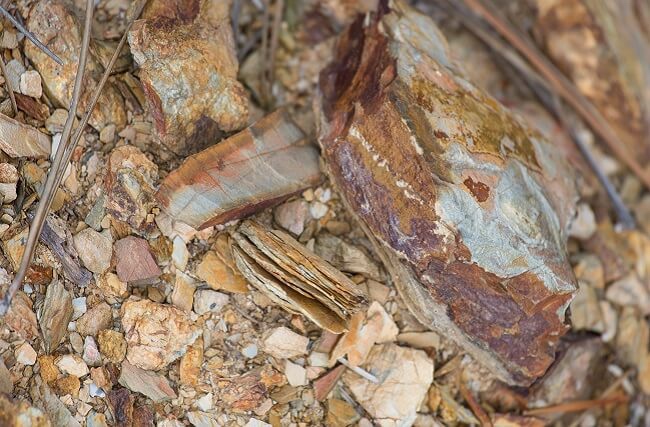 Les Frères Couillaud was started by the Couillaud Brothers, Amélies Grandfather and Uncles with 8 acres in 1978, after purchasing the 14th Century Château Ragotiere from Lord de la Ragotiere. Now with 87 acres of vines that surround the winery, it is run by Amélie and her husband Vincent, who have transformed the vineyard and utilized Biodynamic practices. All of this hard work is evident in the subtle nuances and quality of their wines.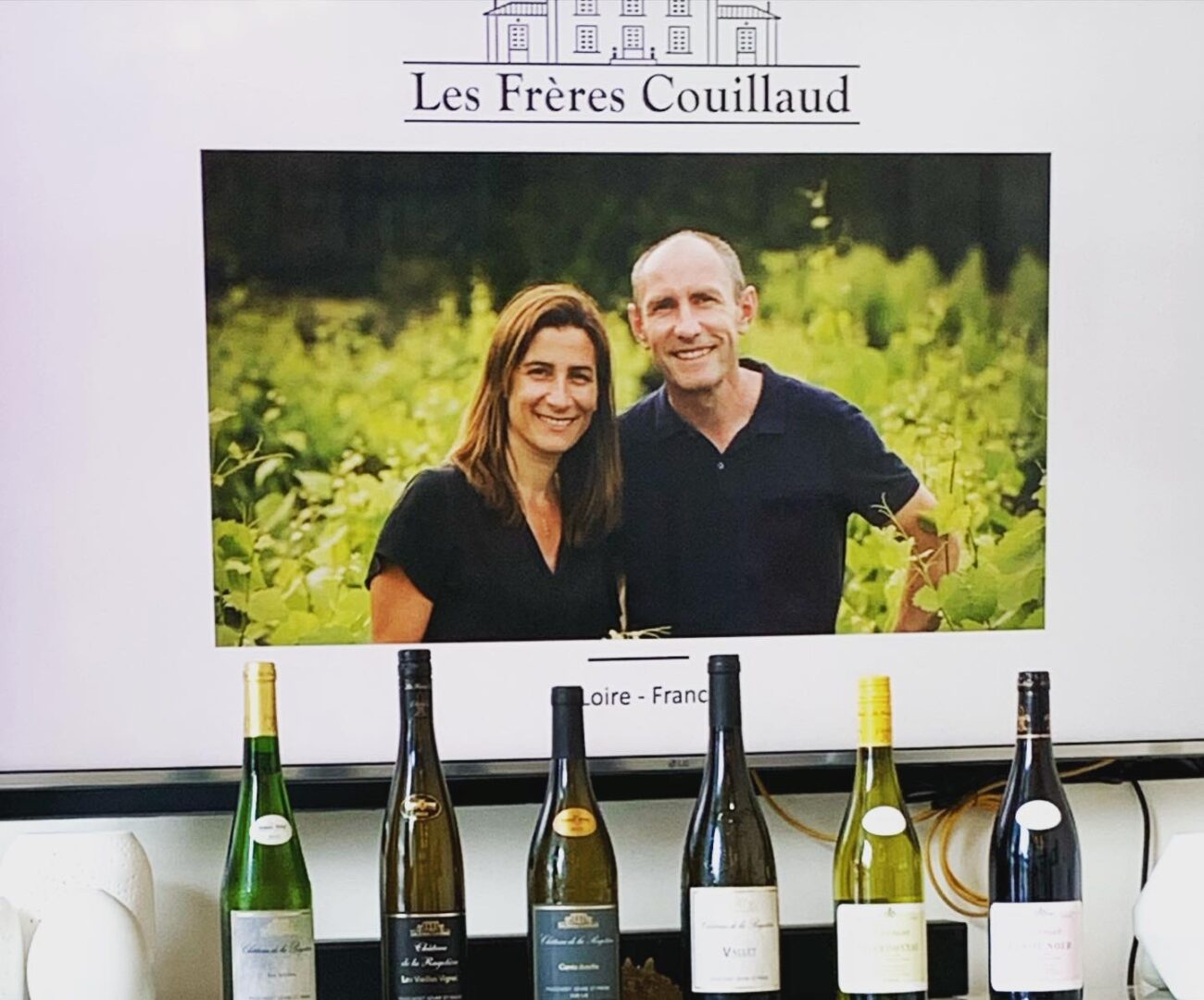 Château de la Ragotière produces four wines, all from Muscadet or Melon B. (Formerly known as Melon de Bourgogne)
Les Shistes, Muscadet Sèvre et Maine Sur lie is the closest you get to a tradition Muscadet. This 100% Melon B. wine is from 30 year old + vines. It's aged in underground cement tanks, with no malolactic fermentation and 7 months on the lees. This wine is fresh, light, full of minerality and perfect for a traditional pairing of fresh oysters.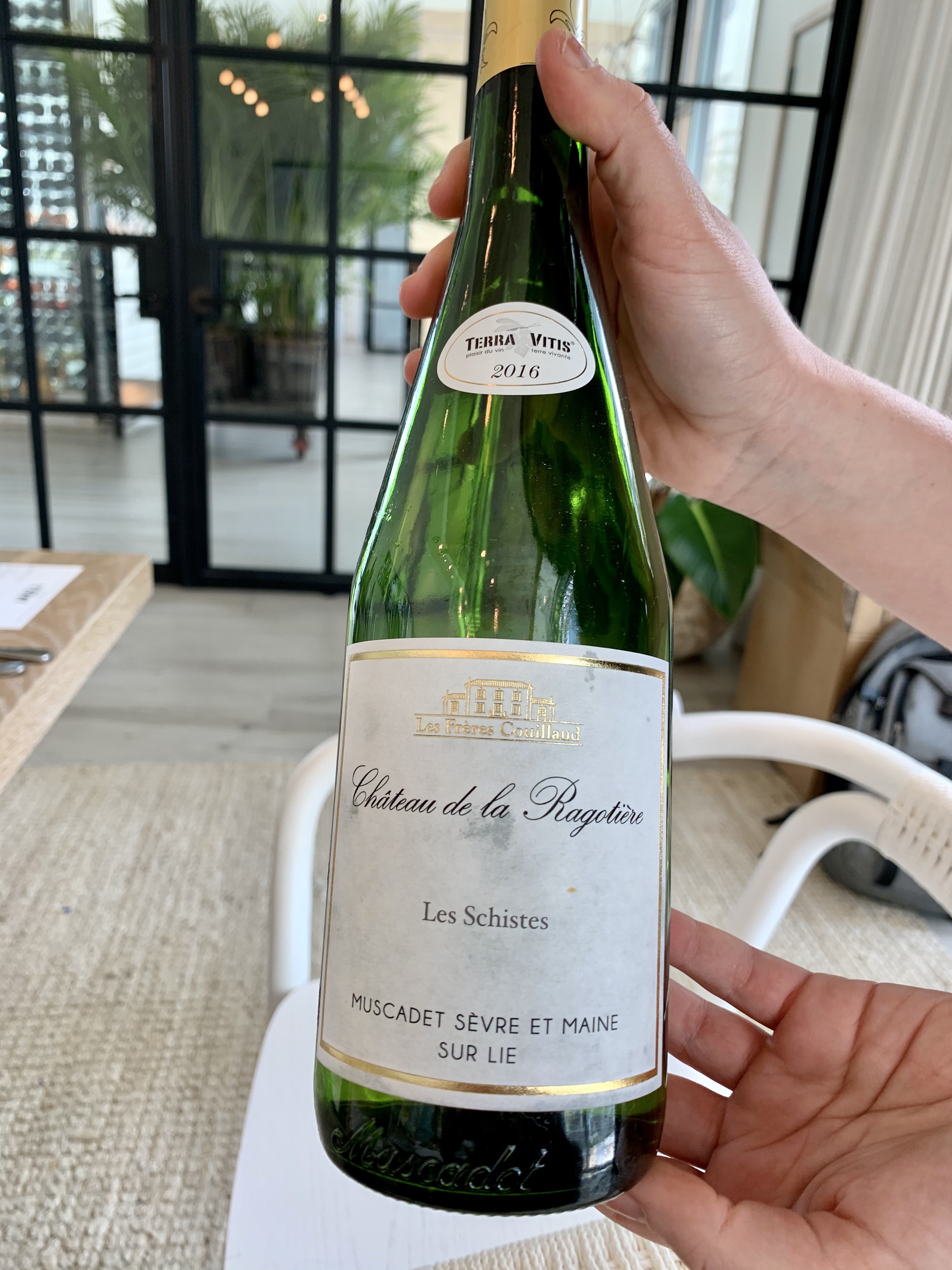 Vielles Vignes, Muscadet Sèvre et Maine Sur lie is from 50 year old + vines, with 10 months on the lees. This starts to bring out the creaminess in the wine, while maintaining its fresh acidity like the Les Schistes wine. Pairs perfectly with Asian food.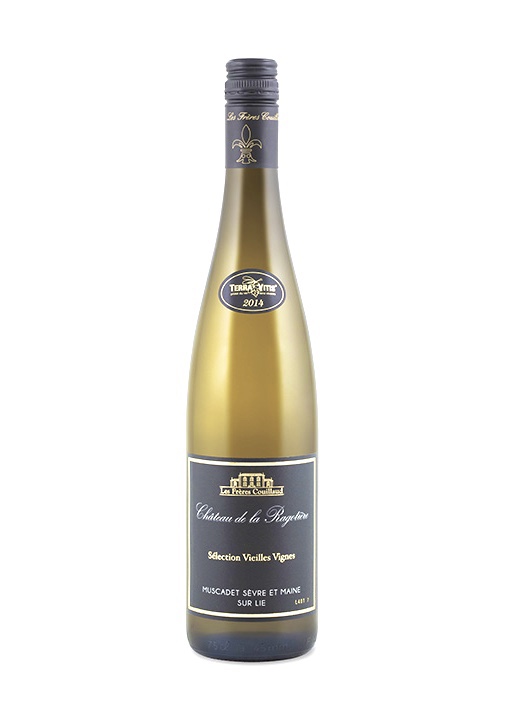 Cuvée Amélie, Muscadet Sèvre et Maine Sur lie undergoes 100% malolactic fermentation with 12 months on the lees. This wine has that gorgeous smooth flavor, with creamy apples, and a bit of brioche flavor. It can easily stand up to grilled lobster, salmon and delicious creamy cheeses.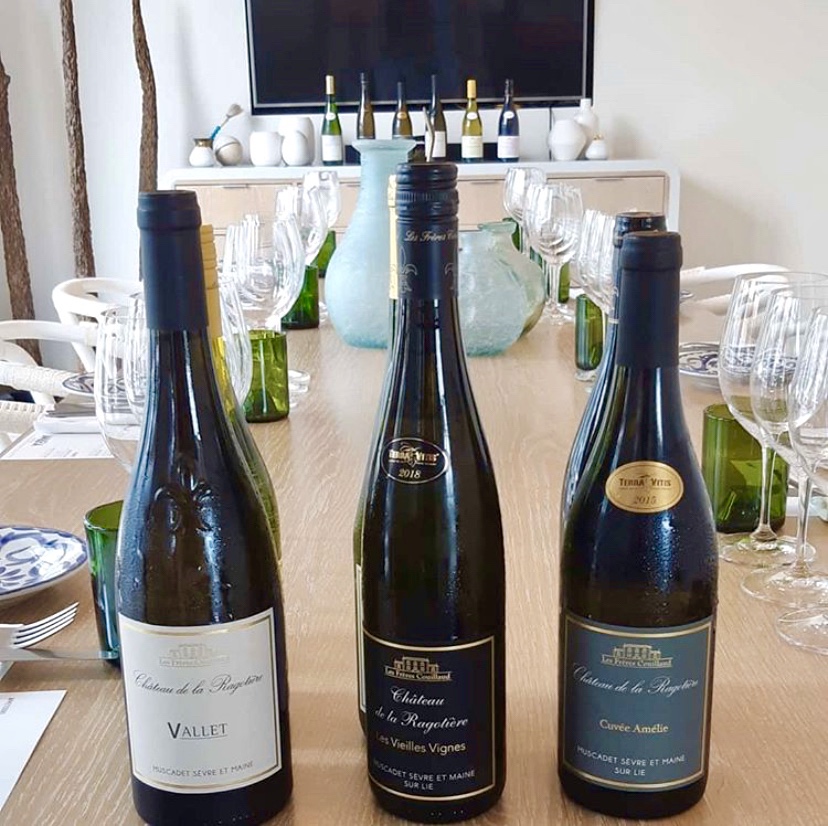 Château de la Ragotiere Vallet Muscadet Sèvre et Maine is their crème de la crème wine. It's a bone dry wine made from 50+ year old vines, and aged on fine lees for 30 months in underground tanks, then bottled after cold precipitation. This Muscadet still maintains its minerality, with a fruity fresh flavor, but also has rich spiciness and a creamy texture. This beauty will hold up to yummy white cream sauces and pairs perfectly with lobster chowder.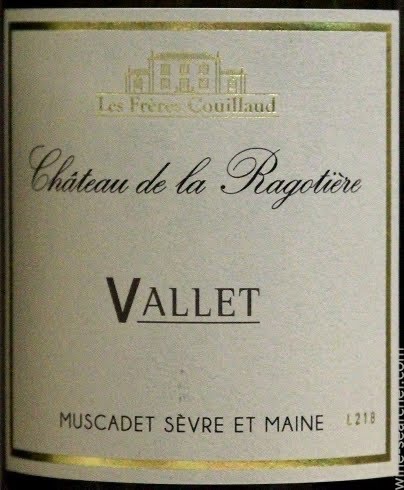 Something about the schist soils, and the muscadet grape that maintains minerality and freshness in the wines, in addition to the aging on the lees makes this a perfect wine. It's great for not only warm weather cuisine, but a fantastic match for creamy sauces, cheeses, curries and seafood dishes alike. Close your eyes, take a whiff, drink it in, this is the seaside Atlantic Coast, this is the Nantes, Loire Valley.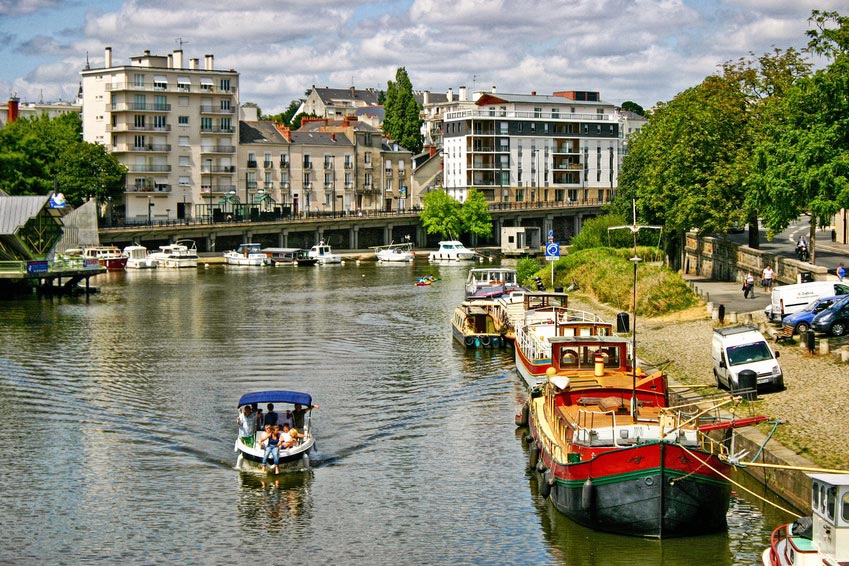 #petitewinetraveler #muscadet #loirevalley #wine #winetravel
https://www.freres-couillaud.com