So thrilled to have been invited to join the "Wine Makers Harvest Dinner" seated next to Wine Maker Dan Smith, and his new bride. Dan has been with Villa San Juliet for the last 7 years (owned by Mega Celebrity Nigel Lythgoe)
Villa San-Juliette produces Bordeaux and Rhône-style wines from the Estrella District in Paso Robles, California.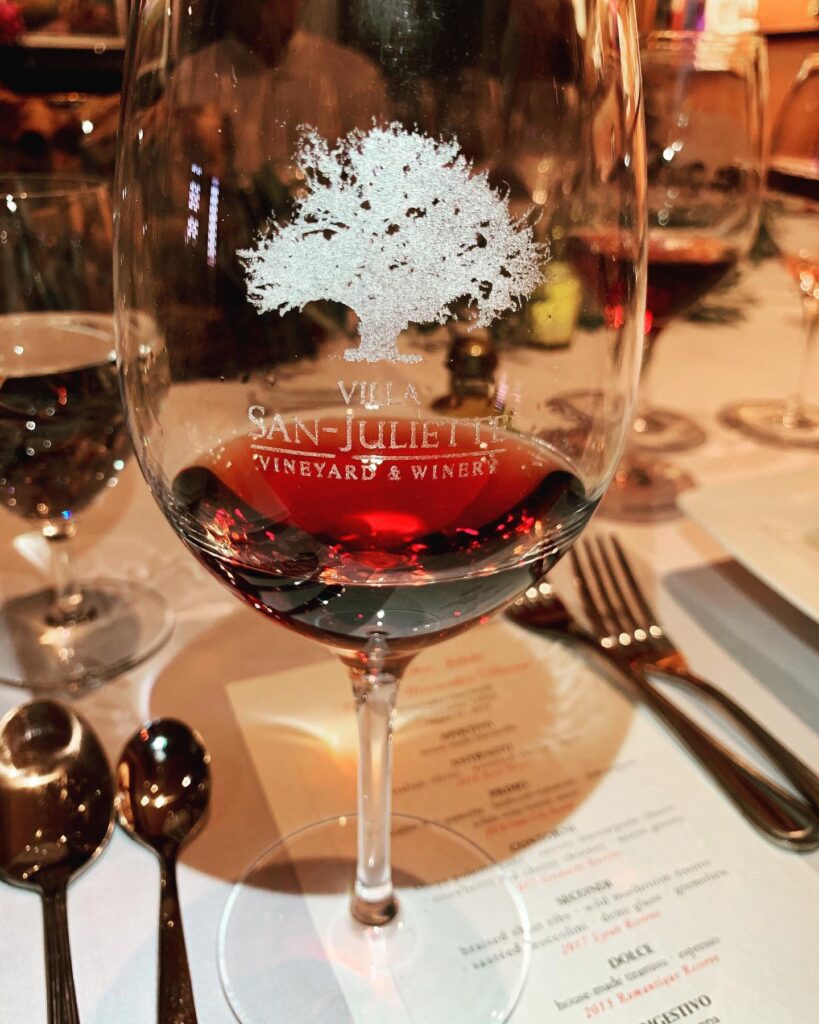 Picture this, a gorgeous Italian Villa, with 140 acres of prime views, set atop a mountain of grapevines in California's Paso Robles Region. With 12 varieties of grapes being grown at this top notch winery and 70 acres devoted to Cabernet Sauvignon, they are doing special things here in the California Central Coast. Their goal is to create wines for everyone, with crisp light low alcohol whites and balanced lower alcohol reds. The wines are mostly hand harvest due to the slopes, and their reserve wines are all hand harvested.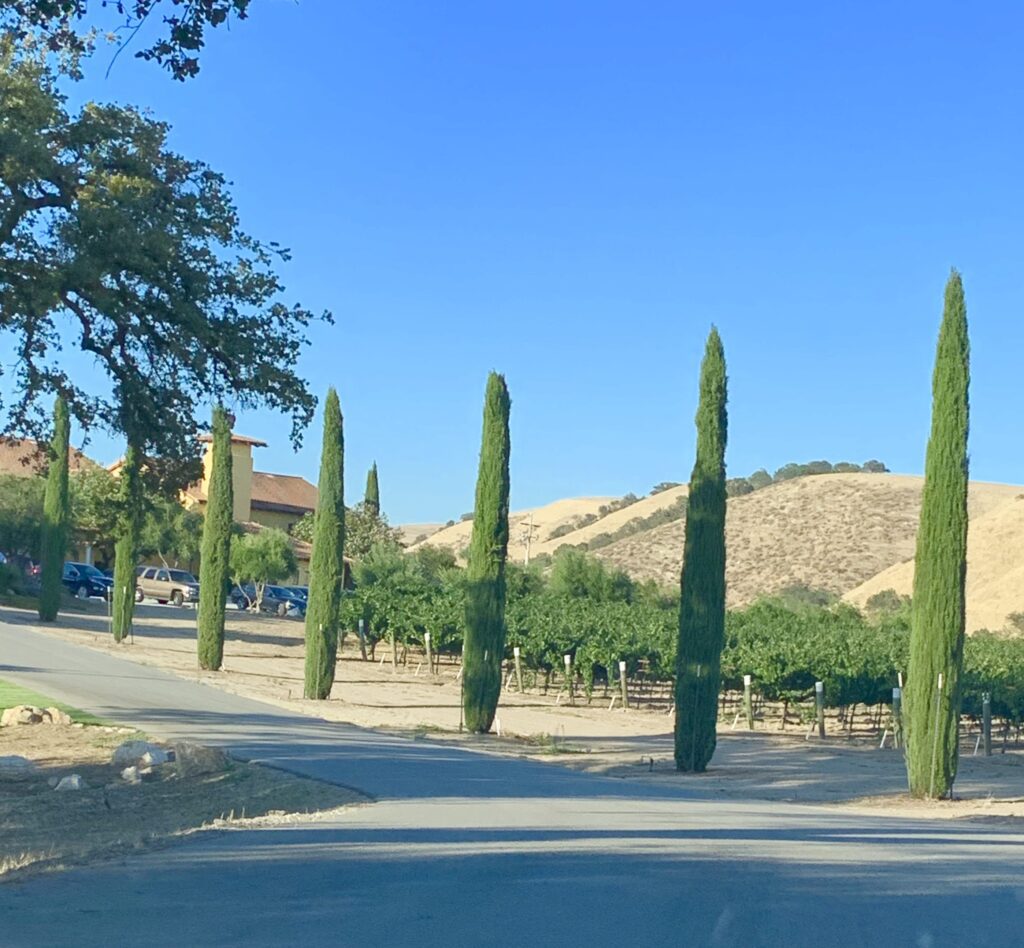 Wine Maker Dan was inspired by family, and particularly his Uncle who was an avid wine collector. After attending Cal Poly for Wine Making studies he found himself at Gallo in California's Central Valley where he learned mechanization. Then he ventured to work in Oregon, but knew his heart was back home on the Central Coast, in Paso Robles. And it's a good thing that he returned, because here is where he met his new bride Jessica.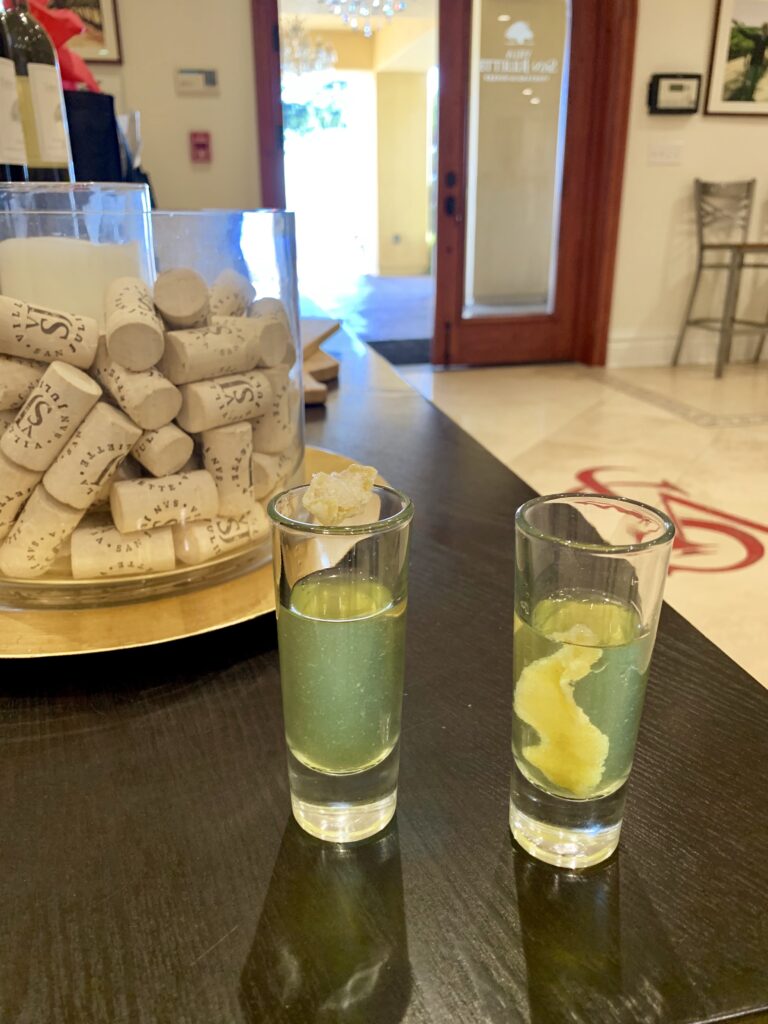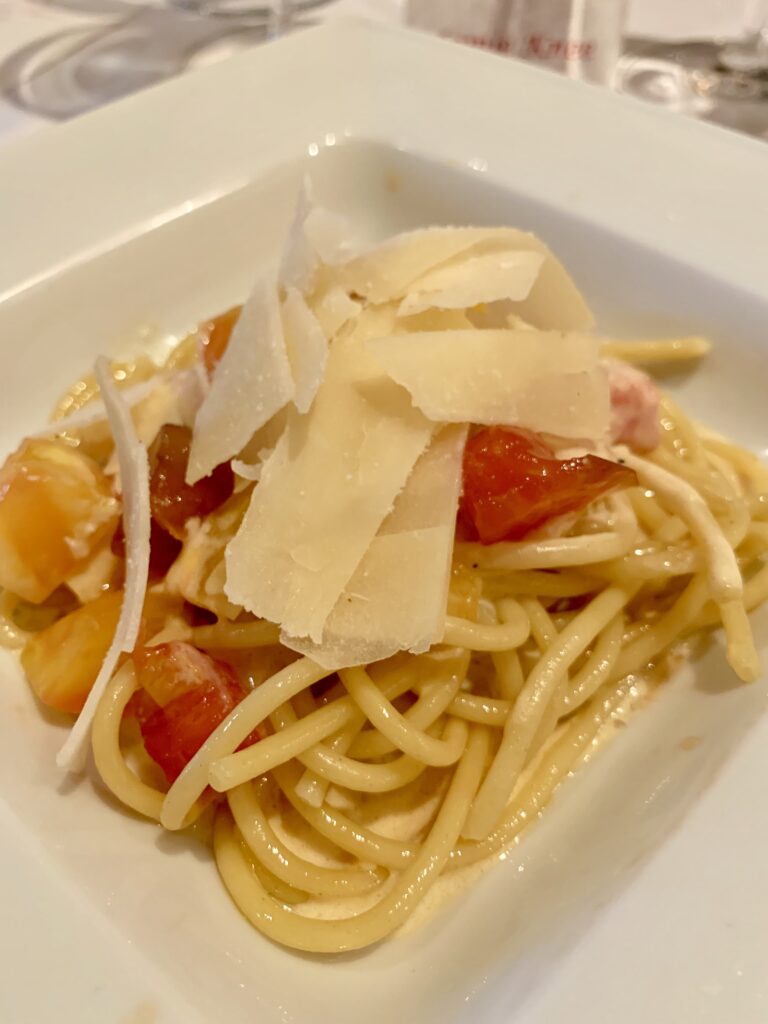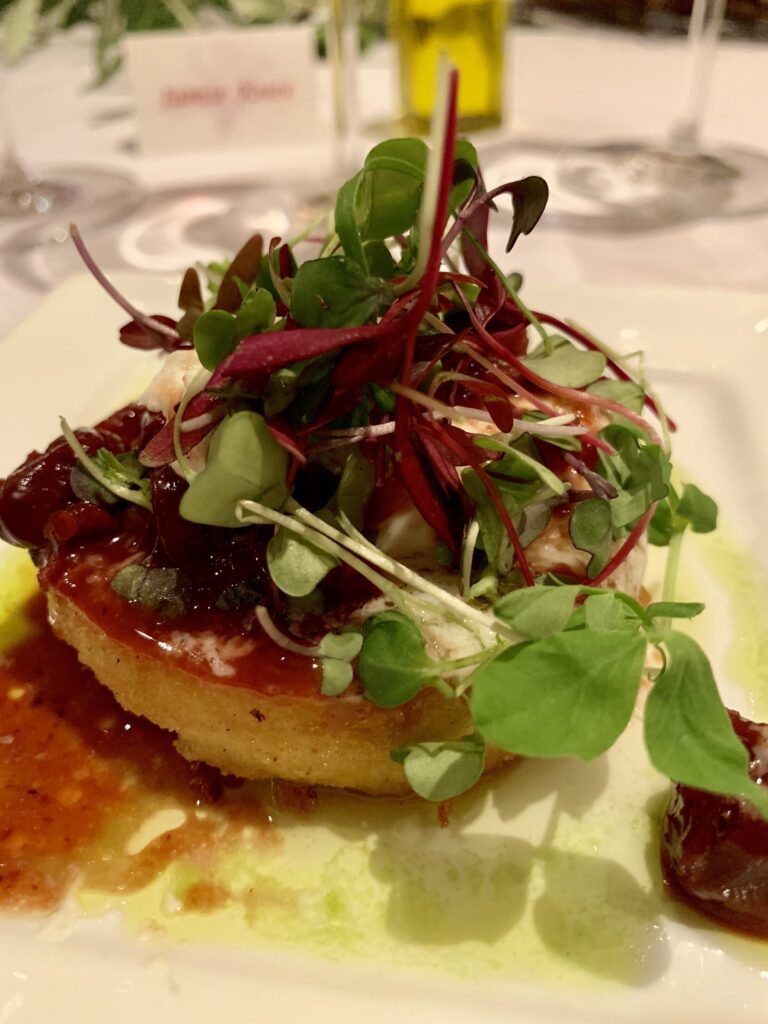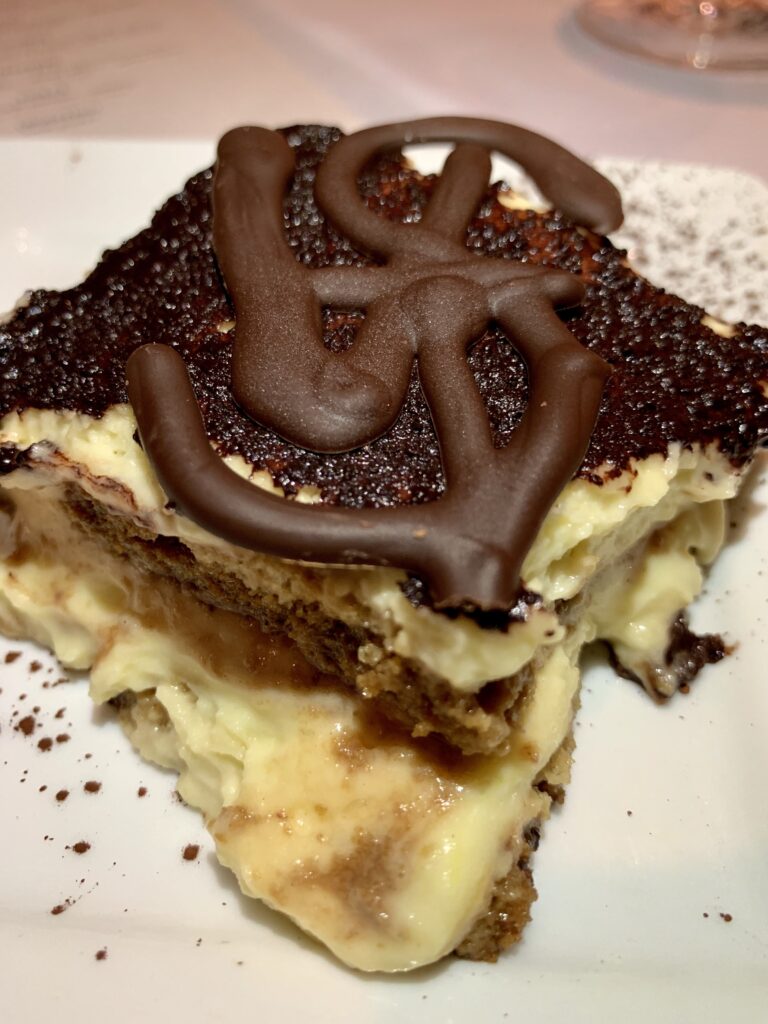 The evenings festivities kicked off with a house made limoncello enjoyed on the veranda overlooking the rows of gorgeous vines, to stir up our appetite. Our first course an Antipasto, paired with a crisp light salmon colored Rosé, with flavors of bright red fruit, think strawberries and watermelon, with a crisp citrus acidity; Bucatini pasta with the freshest burst in your mouth multi-colored heirloom tomatoes, paired with a Pinot Gris Reserve that was refreshing, full bodied with apple pear flavors; Crispy polenta cake with marscapone créme and fresh cherries that complimented a most delicious red berry, full bodied, bold flavored, Grenache Reserve wine, one of my favorites. The main course was an earthy wild mushroom risotto, and braised short ribs accompanied by a Syrah that was full mouthed with light French oak, fresh dark fruit flavors and a hint of spice. Lastly a Dolce Tiramisu soaked with cream, chocolate and coffee paired with their Romantique Reserve, a bold red wine of 10 Rhône varietals that encompassed the best of their 2013 harvest. And no meal would be complete without a digestif of Grappa!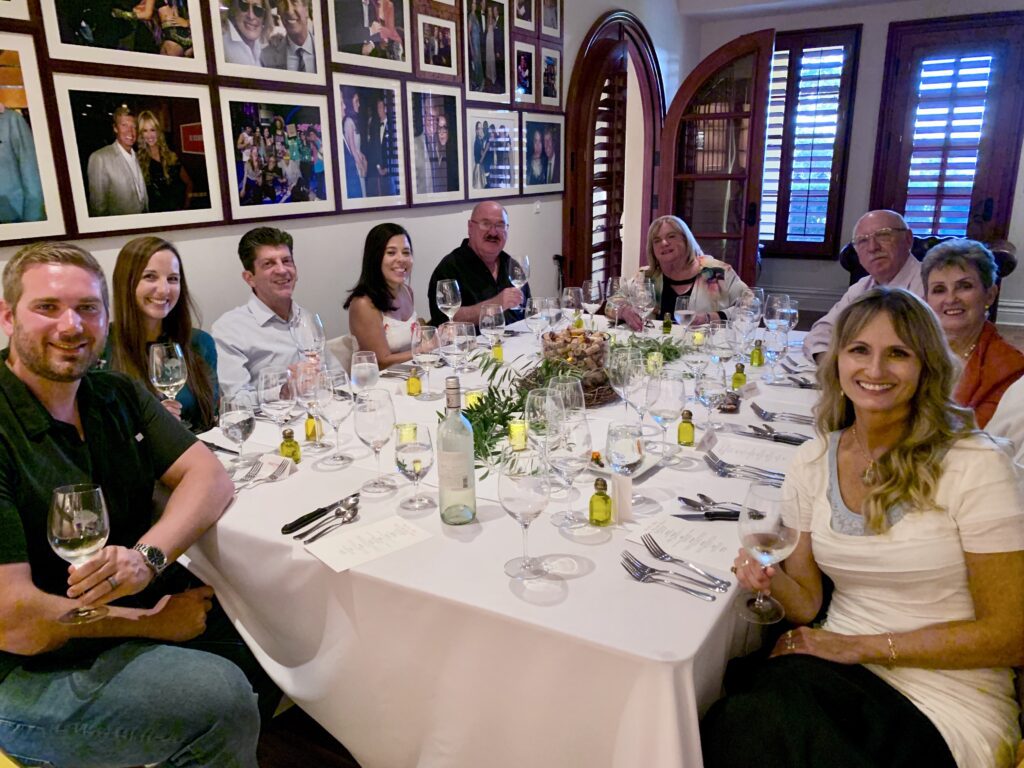 A truly magical evening, with a fun group of Villa San Juliette Club Members who quickly became friends. Who would've thought you could be transported and experience a Tuscan wine travel experience in the middle of the California Central Coast!
https://www.villasanjuliette.com
#PetiteWinetraveler #winepairing #winetraveler #foodandwineblogger #Winespecialist #FoodAndWine #foodandwinetravel #foodie #pasowine