Art should be fun, exciting and thought provoking! But with all the shows in town, it can seem a bit overwhelming. Here's your guide to get your through the week and Basel-ing like a pro!
Art Basel Miami Beach
Miami Beach Convention Center, December 6–9
At Art Basel Miami Beach, the marquee event of the week, some 268 galleries, including 29 newcomers, will present their wares. Big names—Gagosian, David Zwirner, Hauser & Wirth, and Pace Gallery among them—will abound, joined by closely watched young galleries, and its conversations program will feature some of the art world's most prominent figures, including Judy Chicago, Hans Ulrich Obrist, Michelle Grabner, Jeffrey Gibson, and many others. A single-day ticket costs $50.
Hours and tickets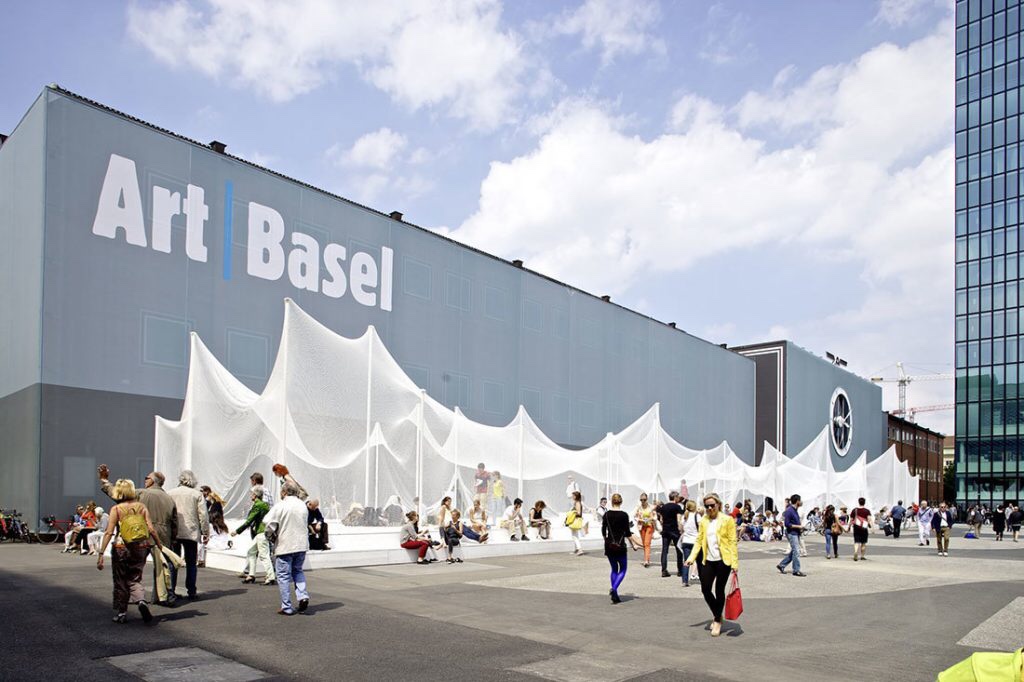 Art Miami
Art Miami Pavilion at One Herald Plaza, Miami, December 5–9
The 29th edition of Art Miami, which will take place in downtown Miami, will have presentations from Hollis Taggart Galleries, 313 Art Project, Maddox Gallery, and Avant Gallery, among other international exhibitors. Special events at this year's fair include an exhibition of work by alumni of the New York Academy of Art's MFA program, an interactive augmented reality experience by nonprofit organization Unleashed, and, as part of a collaboration between Art Miami and Gallery Wendi Morris, screenings of artist Ana Teresa Fernández's video Drawn Below. Single-day tickets—which include admission to its fair for emerging and mid-career art, Context Art Miami—cost $55.
Hours and tickets
Aqua Art Miami
Aqua Hotel, Miami Beach, December 6–9
A sister fair of Art Miami, Aqua Art spotlights work by emerging and mid-career artists. The show will include 212 Arts (New York), Ben Gallery (Guangzhou), AC Contemporary Art (Buenos Aires), and other international exhibitors. DJ performances, artist talks, and a mobile tattoo tent are also on the agenda at Aqua. Single-day tickets go for $25.
Hours and tickets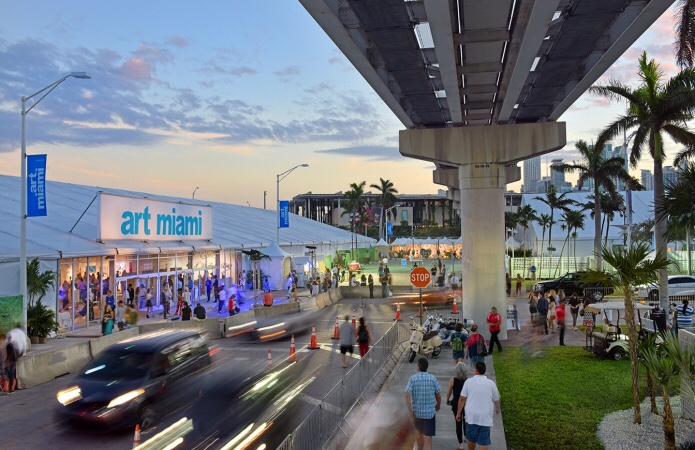 Design Miami/
Meridian Avenue & 19th Street, Miami Beach, December 5–9
Design aficionados come together at this fair, located essentially across the street from Miami Basel, to shop high-end furniture, lighting, and art objects. The 2018 edition boasts a specially commissioned section focused on the work of artist Pedro Reyes and fashion designer Carla Fernández, as well as talks on design-related subjects with artists, collectors, and critics. Presenting in the "Galleries" section are Carpenters Workshop Gallery (London, New York, Paris, San Francisco), The Future Perfect (Los Angeles, New York, and San Francisco), Salon 94 Design (New York), Functional Art Gallery (Berlin), and others. And various designers, curators, and gallerists will display cabinets of curiosities throughout the fair for Design Miami/'s "Curios" exhibition. One-day access is $27 online and $32 at the door.
Hours and tickets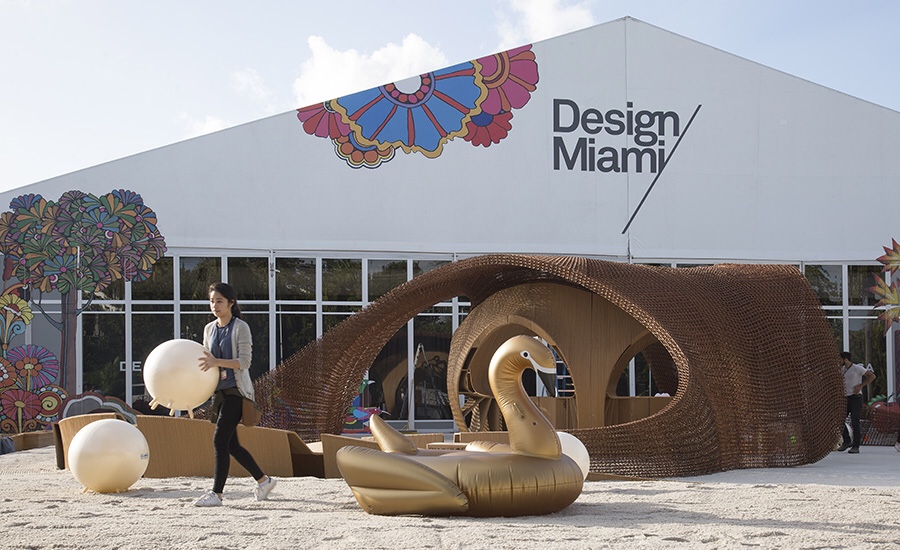 Ink Miami Art Fair
Suites of Dorchester, Miami Beach, December 5–9
As its name suggests, Ink specializes in exhibitions of modern and contemporary works on paper. The fair, presented by the International Fine Print Dealers Association, will turn hotel rooms into individual art galleries. The lineup includes Childs Gallery (Boston), Stoney Road Press (Dublin), TAG Fine Arts (London), Upsilon Gallery (New York), Hamilton-Selway Fine Art (West Hollywood), and other exhibitors. Admission to Ink is free.
Hours and registration
No Commission Miami
Faena Forum, Miami, December 6-7
Organized by the Dean Collection and Bacardi, No Commission Miami 2018 is an all-photography fair. The show will feature work by artists including Zalika Azim, Nailah Davis, Deana Lawson, Yuanyuan Zhao, and others. Special events include a panel discussion, titled "The Evolution of Photography in the Digital Age" and moderated by Aperture Magazine managing editor Brendan Embser, and various musical performances.
Hours and registration
NADA Miami
Ice Palace Studios, Miami, December 6–9
One of the few major American art fairs produced by a nonprofit organization, the New Art Dealers Alliance fair in Miami is now in its 16th year. Artadia (New York), Hannah Barry Gallery (London), and Shane Campbell Gallery (Chicago) are among this year's 125 participating exhibitors. A few noteworthy special projects that will be on view are a new tree sculpture by Detroit-based artist Tyree Guyton and new hanging rawhide works by artist and writer Rindon Johnson installed across palm trees. There will also be a group exhibition of work by 11 past grantees of the NADA Artadia Award—including Margaret Lee, Jackie Saccoccio, and Farah Al-Qasimi. Single-day admission is $20, and proceeds from ticket sales go to the NADA acquisition gift for the Pérez Art Museum Miami's permanent collection and the NADA International Gallery Prize, which supports first-time exhibitors that will travel internationally to the 2019 fair.
Hours and tickets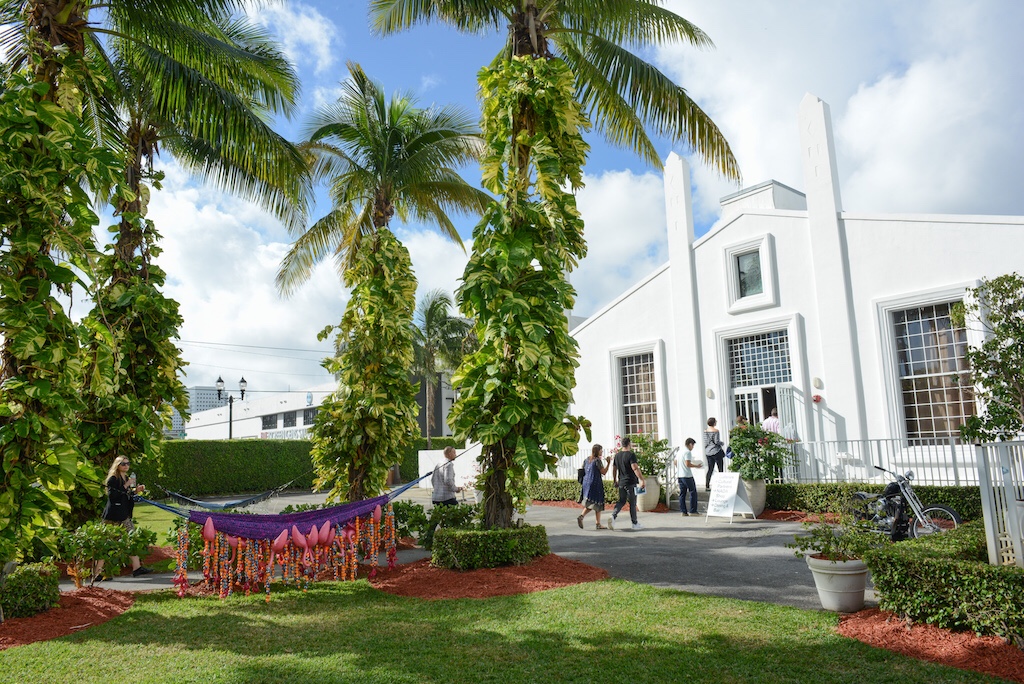 Pinta Miami
Mana Wynwood, Miami, December 5–9
Pinta Miami's 12th edition will gather together some 60 galleries from Latin America, the United States, and Europe in its main section. There, works by over 300 artists, including Carmen Herrera, Jorge Eielson, and Wilfredo Lam will be on view. The "Countries Section" will highlight emerging artists from five countries: Argentina, Brazil, Chile, Colombia, and Mexico. The fair also has two new programs: "Pinta Platforms," comprising solo exhibitions curated by Roc Laseca, and the "Projects Section," featuring large-scale projects curated by Ysabel Pinyol. General admission is $30.
Hours and tickets
Prizm Art Fair
Alfred I. Dupont Building, Miami, December 4–9
Focusing on contemporary art of the African Diaspora, Prizm 2018 will convene Emerson Dorsch (Miami), Morton Fine Art (Washington, D.C.), September Gray (Atlanta), N'Namdi Contemporary (Miami), and other galleries. The fair's special projects are organized in two exhibitions. One, titled "transceivers: channels, outlets and forces" and curated by William Cordova, considers the intersections of futurism, ritual, and folklore, and it features site-specific installations by Nyame Brown, Yanira Collado, Onajide Shabaka, the late Purvis Young, and more artists. In another show, called "The Dark Horse," which is curated by Mikhaile Solomon, artists explore the ways marginalized communities "negotiate, reappropriate, and reclaim the currencies used against them to build a future that is inclusive of prosperity for all." Prizm's opening reception on December 4 is free and open to the public, and single-day admission is $15.
Hours and tickets
Pulse Miami Beach
Indian Beach Park, December 6–9Pulse's programming this year includes site-specific projects, solo exhibitions, artist talks, and more, and Hosfelt Gallery (San Francisco), Sim Smith (London), and M77 Gallery (Milan) are among the enterprises that will be on hand. Single-day tickets are $25.
Hours and tickets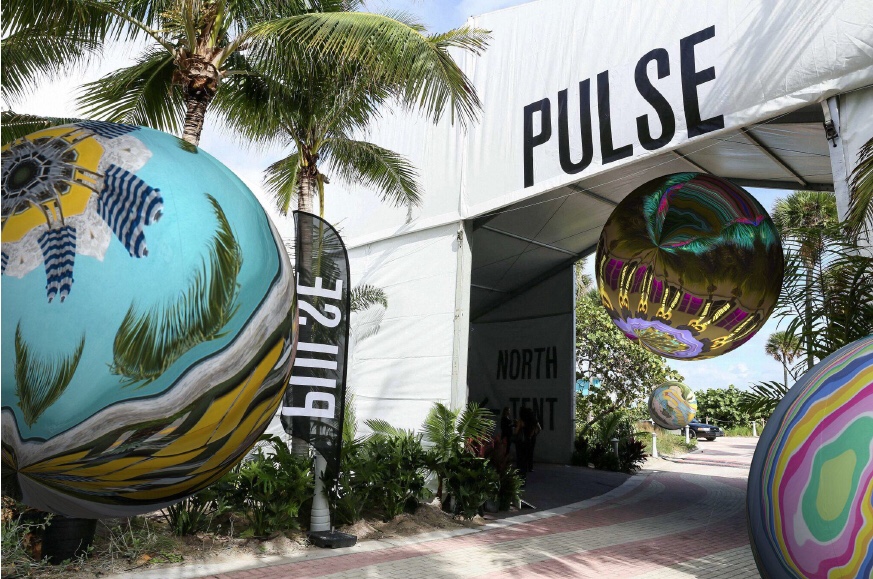 Red Dot Miami
Mana Wynwood, December 6–9
Red Dot Miami will bring together modern and contemporary works by more than 500 artists, presented by over 75 international galleries. Art talks and other special events are also part of the show, which was established in 2006. Single-day tickets are $25 online or $30 at the door, and admission to its sister fairs, Spectrum Miami and ArtSpot Miami, is included.
Hours and tickets
Scope Miami Beach
8th and Ocean, on the beach, December 5–9
Scope, which also has fairs in New York and Basel, Switzerland, will include 140 exhibitors in a pavilion on the beach for its 18th edition in Miami. Some of the galleries showing work are Antonio Colombo Arte Contemporanea (Milan), Christopher Martin Gallery (New York, Dallas, Aspen), Kahn Gallery (New York), and Octavia Art Gallery (New Orleans and Houston). A single-day ticket is $40.
Hours and tickets
Untitled, Miami Beach
12th and Ocean, on the beach, December 5–9
Untitled, Miami Beach will welcome 46 new exhibitors—including Edel Assanti (London) and Davidson Contemporary (New York)—this year, and the fair will feature 10 special projects by artists like Michael Joo, Claudia Peña Salinas, and Pep Duran. Other programs are an ongoing, durational performance about labor in the Miami area called #NeverNotWorking and a book launch and signing for Devan Shimoyama's recently published catalogue accompanying his solo exhibition "Cry Baby" at the Andy Warhol Museum in Pittsburgh. A single-day pass, which is good for any day of the fair, costs $35.
Hours and ticket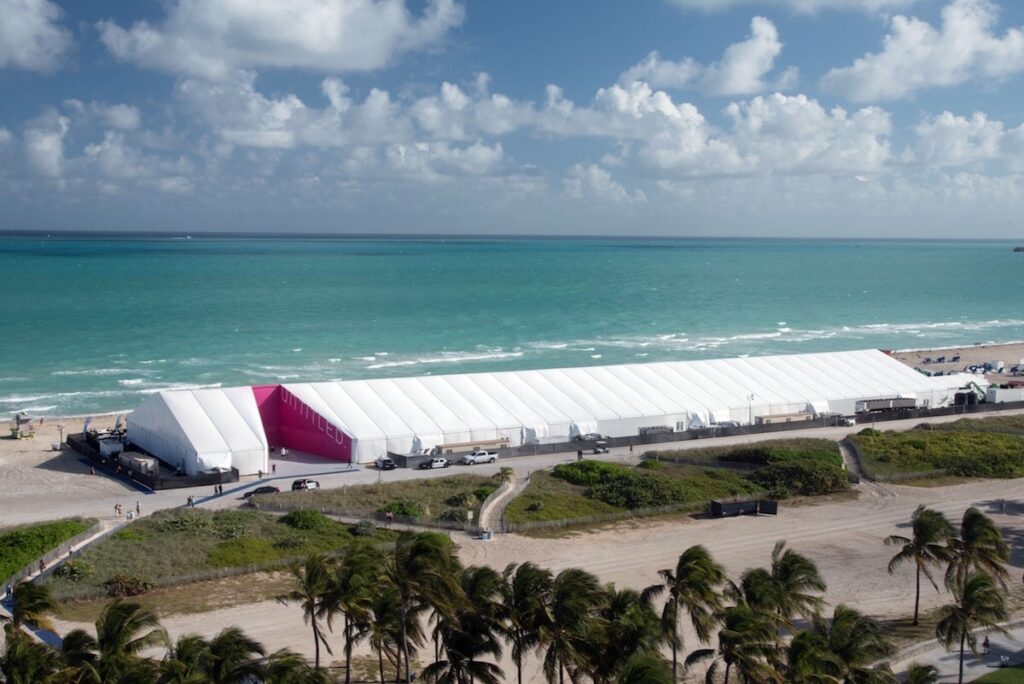 There's options and fun for everyone! Just be sure to wear your comfortable (yet stylish) walking shoes, this is Miami you know, the place to see and be seen! Happy Basel-ing and see you there!!!
#whatisupmiami