The 1976 Paris judgement was the blowing crush heard around the world, ok at least in the wine world. California wines beat out French wines in a competition held not only in France, but by French judges. Quelle horreur! (Oh the horror!) Even today there is still a friendly rivalry of France Vs. California, which can be a little tenuous at times.
1976 Judgement of Paris…Photo by Bella Spurrier
However the 1976 judgment appeared to level the playing field, and there is no doubt that both regions can produce glorious wines, just look at the Bordeaux blends from Bordeaux and Napa Valley. But ask any true wine lover and they are bound to have their favorite. There are those that swear by Old World French Wines, while others go for the New World aka California Rockstar winemakers wine. But is there truly a difference? What are the differences? And is one really better than the other?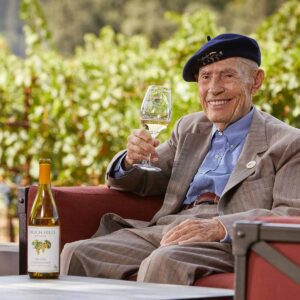 Chateau Montelena                                                                                   Mike Grgich-Grgich Hills Winery
Well again this is all a matter of opinion. Let's pick one grape for arguments sake, and examine the Cabernet grape, which hails originally from Bordeaux.
In Bordeaux the region is dotted with Chateaux which resemble old world castles. The temperatures are cooler to moderate, this is known in the industry as a Maritime climate, which means that the region is close to the sea, and the grapes are never too cold in winter, nor too warm in summer. The Cabernet in this environment is a key grape in producing a world class Red Bordeaux wine. These wines are dry, medium tannins, and medium alcohol. With a lighter body and higher acidity, this makes it an overall better wine to accompany food. Flavors that jump out at you are black cherries, plums, black currants, and light French oak, with an emphasis on an earthy, sometimes even barnyard like quality. French wines are named after the place they come from, example Burgundy, Bordeaux & Chablis. Bordeaux from an area Chateau can sell for hundreds and even thousands of dollars for a superior aged bottle, think wines from one of the Grand Crus in the Medoc. The wine of France is highly regulated and only specific grapes can be planted in specific regions, with crop sizes and yields being highly regulated. Meaning they can't just grow whatever they want, and must adhere to what is being planted in the area. French wine growers place high emphasis on the land, and believe this is what makes their wines superior.
Bordeaux, France
California aka New World Cabernet are big, bold, and just as loud as us Americans are thought to be. The popular red Cabernet Grape grows in several areas throughout the state, but Napa is generally known as Big Cab Country. The weather is warm to hot throughout the day, with a large diurnal shift, meaning it drastically cools down over night, with a cool morning fog that allows the grapes to ripen fully. The wine makers here are known to leave their grapes hanging on the vines as long as possible to fully ripen, leading to flavors of very ripe cassis, berries, spices and new oak flavors, sometimes accompanied by a jammy fruit like quality. Due to ripening time the wine develops high tannins, high alcohol, and full body, and this is why many Napa wines are made to drink without food. The wines are labeled according to their grape as opposed to the region, ie. Cabernet, Chardonnay. Winemakers here are king, with no major regulation they can grow what they want and how they want, leading to some very interesting Cult status wines. They can decide to plant half of the Vineyard to Cabernet, the other half to Chardonnay, it's their call, and the emphasis here is definitely placed on the winemaker and their genius.
Wines of Bordeaux
California Wine Country
California Wine Country https://discovercaliforniawines.com
With all this being said, there can still be variations amongst regions. It appears that both California and France do have a mutual admiration and seem to be emulating one another's wine making styles. Soon perhaps the differences in the wines will be imperceptible. But until then, I consider it a worthwhile venture to enjoy wine travel tasting your way through California and French Wine Country and decide for yourself. Happy tasting. Cheers!
California Wine
California Grapes experiencing verasion (a change in color from green to red)
Happy Travels….. Cheers!
#petitewinetraveler #winetravels #wineinfluencer #winetravelinfluencer #offthebeatenpath #californiawines #frenchwines #judgementofparis #winewriter #wine #bestwines #winetravel #winespecialist