Central Coast Wines and Winemakers Shine at Annual Sta. Rita Hills Celebration
The view at Kessler-Haak Vineyards | Photo: Jamie Knee
Wine enthusiasts gathered at various locations across the greater Lompoc Valley to immerse themselves in a world of fine wine, delightful conversation, and camaraderie against the breathtaking backdrop of Sta. Rita Hills AVA's vineyards, at the annual Sta. Rita Hills Wine & Fire celebration held August 17-20.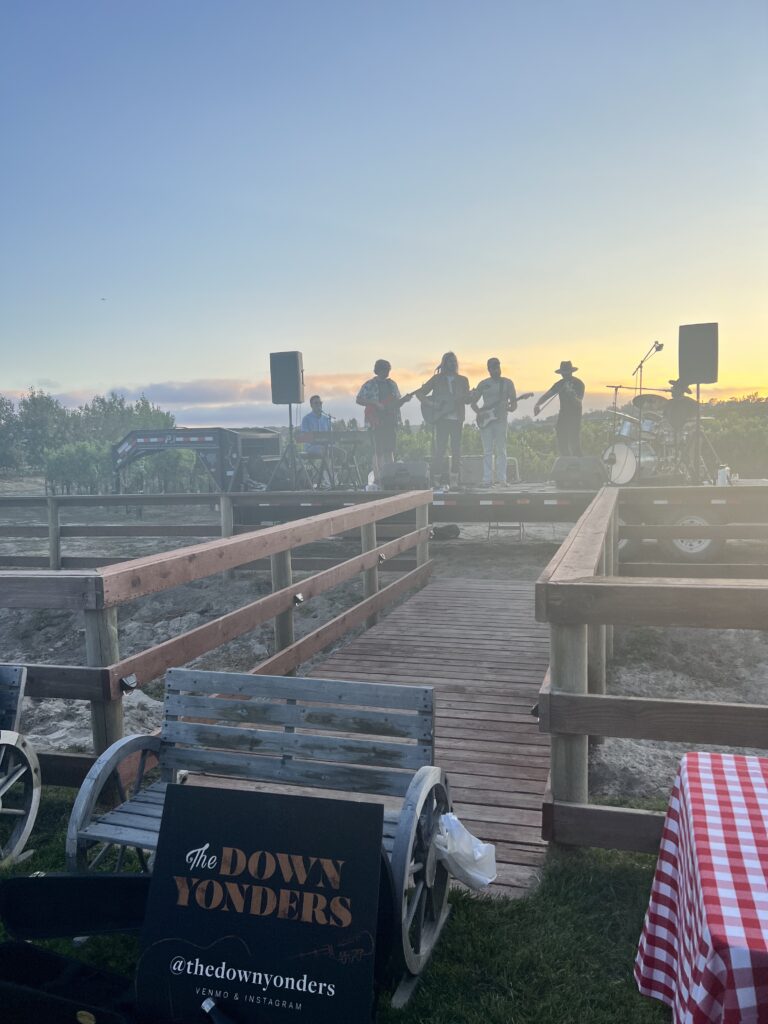 On Thursday night, the "Barn Party" at Kessler-Haak Wines kicked off the weekend festivities among the vineyards and ripening grape bunches. No actual barn was present, and it's a good thing, because the merriment definitely couldn't be contained. Guests reveled in wines poured by nearly 30 winemakers from Sta. Rita Hills, and partied to live music by The Down Yonders. While we indulged in a tasty BBQ dinner, I spoke with guests Dwayne and Ginny Kroening of Saratoga, CA, and they marveled in the evolution of Sta. Rita Hills. "Since 1982, we've been attending the Santa Rita Wine & Fire event, and remember when it was actually in the Sanford & Benedict Barn, in the early days." They continued, "We have only missed the event once." Their devotion mirrors the growth of the region, and they treasured early memories of being poured pinot noir by none other than Richard Sanford.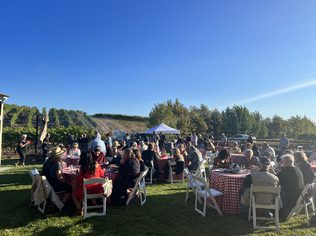 Is there anything better than starting the day with bubbles? I think not. Friday morning's Sparkling Wine seminar featured an hour-long discussion with winemakers, followed by a table tasting on the beautiful grounds of Montemar Winery.
This year's event was a tribute to the mastery of wines and winemakers who have carved a name for themselves in this revered region. Friday night's festivities honored Vintner of the Year Ken Brown, starting with a Sparkling Wine Reception, followed by a BBQ feast provided by High on the Hog, in a La Paulée Burgundian-style dinner.
Saturday, a fun Speed Tasting with the winemakers included stories of winemaking and tales of the region, getting a private one-on-one with each participant for 10 minutes. Think speed-dating, but all the love language was that of the grape.
Saturday night was the pièce de résistance, the Grand Tasting, with approximately 350 attendees. As the sun set over the historic La Purisima Mission, it was not merely a celebration of wines; it was an ode to the collective spirit of winemakers, the growth of a region, and the passion that courses through every bottle. With more than 40 of Sta. Rita Hills' finest wineries in attendance, each winery painted a unique tapestry of flavors and stories. Kathy Joseph of Fiddlehead Cellars, known for her innovative winemaking approach, shared her passion for crafting her "Lollapalooza" wine. She gushed, "This is my pinnacle creation, a blend of my best wines," adding, "It is a masterpiece that's achieved through a blind tasting journey. I'm looking for intriguing wine profiles that captivate the senses." Joseph and winemakers throughout the event offered enlightening insights, underscoring the impact of terroir on wine character. Conversations surrounding winemaking techniques and expressions deepened attendees' appreciation for the artistry behind each bottle.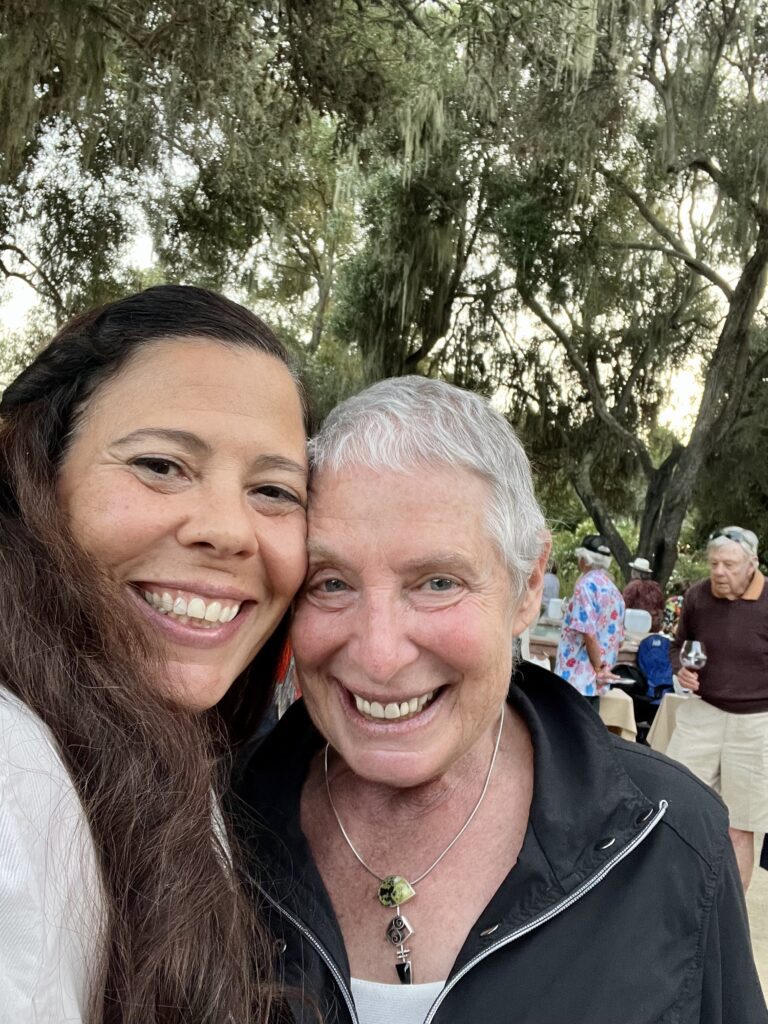 Author Jamie Knee and Kathy Josephs, Fiddlehead Vineyards
At the Hilt Estate table, sipping their chardonnay, I met Richard Brockmeyer, whose role involves helping establish vineyards. From Napa, he returned to the event with a sense of excitement and nostalgia. Brockmeyer said, "I'm so happy to be back at the Grand Tasting Event after an eight-year hiatus." He was thrilled to revisit wines from the Hilt and Jonata, as his connection to the Sta. Rita Hills runs deep. The event's transformation over the years was evident to him, and he marveled at its evolution.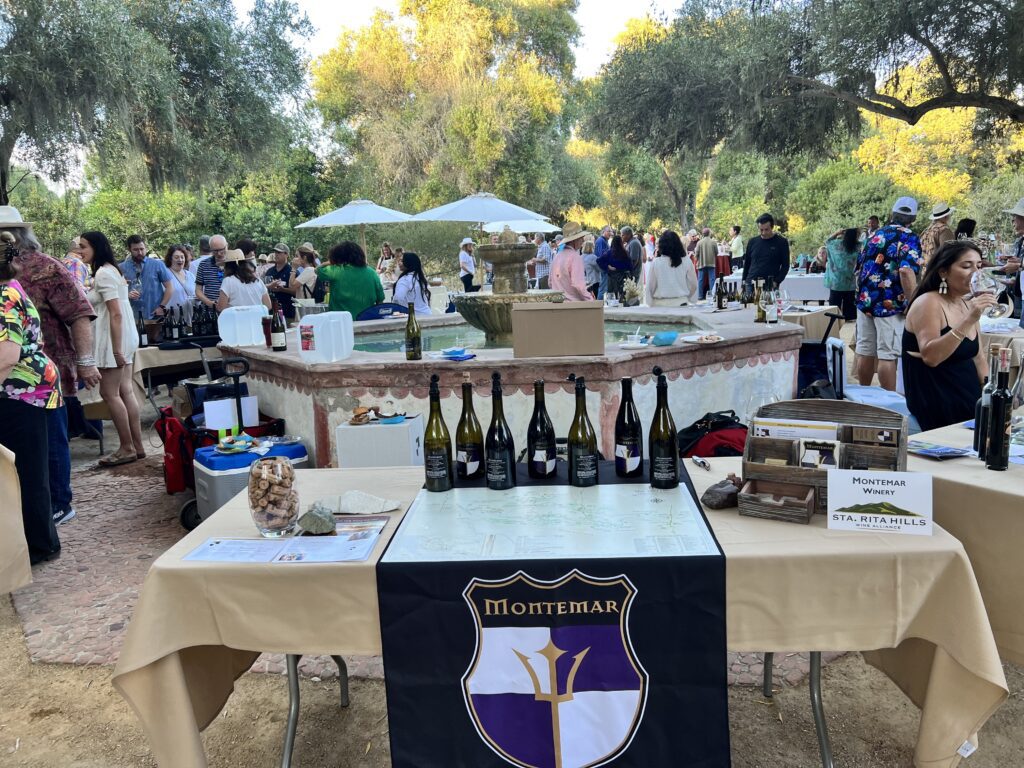 With so many amazing wines to choose from, I sipped Mail Road Wines pinot noir from Mt. Carmel Vineyard that danced on my palate with red fruit nuances, while Barden's chardonnay revealed textured layers of citrus and minerality. I also appreciated the diversity of Holus Bolus & The Joy Fantastic wines, and speaking with their winemaker Peter Hunken, who provided a fascinating exploration of the region's terroir and craftsmanship. As the sun began to set, gentle rays illuminated the wine glasses, and attendees were treated to a symphony of sounds by local musician Kaitlyn Chui. While a "silent auction" took place in the background, this highlight of the Grand Tasting Event offered attendees the opportunity to bid on 40 different large format and library wines, with funds going to benefit the Sta. Rita Hills Wine Alliance.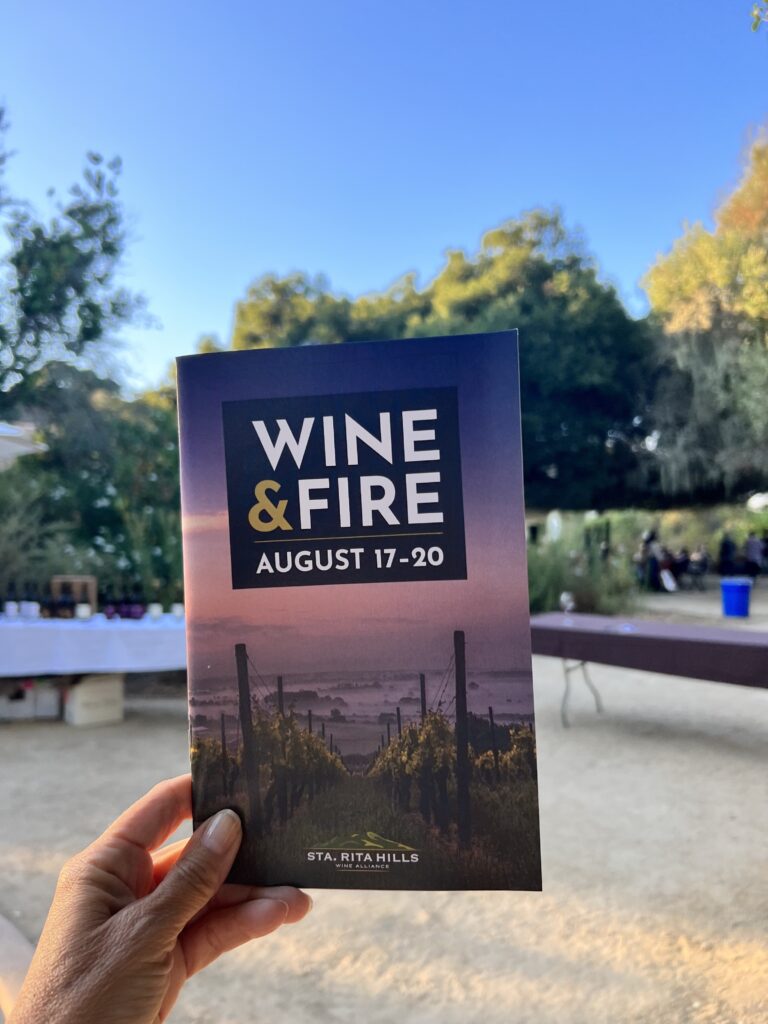 As the sun dipped below the horizon, casting a warm glow over the vineyards and the Mission, it was a moment of reflection and gratitude. The Sta. Rita Hills Wine & Fire event had once again proven to be an unmissable occasion, an annual celebration that united wine enthusiasts, winemakers, and the beauty of the region in an exquisite blend of flavors and experiences. The transformation from the festival early days to its current stature attested to its significance and impact.
Be sure to mark your calendars for next year. Cheers to the Sta. Rita Hills and the wines that inspire us!