THE COLLECTION OF RARE WINES AT SAN YSIDRO RANCH'S STONEHOUSE RESTAURANT IS WELL WORTH THE TREK!
The Stonehouse wine cellar houses 12,000 bottles from 70 different regions.
Tristan Pitre is wine director at the Stonehouse Restaurant on San Ysidro Ranch.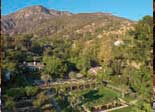 The historic San Ysidro Ranch is located on a 500-acre property in the Santa Ynez Mountains.
I recently had the opportunity to visit San Ysidro Ranch, known by locals simply as The Ranch. This bit of Santa Barbara, California, history is where none other than John F. Kennedy and his wife, Jackie, spent their honeymoon; the resort has also hosted such personages as Winston Churchill and now regularly welcomes Hollywood celebrities who come here for relaxation, privacy, and the ultimate Santa Barbara experience.
Tucked away on 500 pristine acres in the Santa Ynez Mountains, The Ranch is home to the Stonehouse Restaurant, set in a rustic stone structure that looks like a charming old home but was actually a 19th-century citrus-packing house. A recipient of Wine Spectator's Grand Award, which recognizes extraordinary commitment to wine service, it offers an unrivaled dining experience featuring locally driven cuisine and a world-class wine cellar holding 12,000 bottles from 70 different regions across the world.
"Everyone gets stellar service here, in addition to wine, food, and an experience they can't get elsewhere," says Tristan Pitre, Stonehouse's wine director. The Advanced Sommelier, who has worked in the indus-try since age 16, notes that the restaurant's guests are truly interested in the story be-hind it and regularly make the hour-and-a-half drive north from Los Angeles to visit; there's even a large influx of guests from San Francisco in addition to established clientele from around the globe.
Pitre works the floor five nights a week, which gives him insight into what his patrons are looking for. He says many of the locals are interested in trying wines from Europe, and there is no shortage to choose from on the 2,200-label list—including a vertical of Domaine de la Romanée-Conti Montrachet. However, travelers to the area quite often want to immerse themselves in the wine and food of the area. Pitre will recommend items such as lobster and fresh-caught uni from local waters or dishes made with chante-relle mushrooms grown on the property, paired with Sta. Rita Hills Chardonnay or Pinot Noir. Younger diners, meanwhile, are eager to taste low-intervention and/or sus-tainable wines from the Santa Ynez Valley. While the list offers bottles at every price point, the sweet spot is in the $200–$300 range; there are also 16 wines by the glass.
In 2018, Stonehouse's cellar was destroyed in a mudslide. The restaurant closed for a year, and the cellar took an additional year and a half to rebuild. The silver lining was that Pitre had the opportunity to assemble it from scratch, including low-intervention producers like Sicilian wine COS and Canadian brand Pearl Morrissette in its expansion. But the pièce de résistance is a collection of every vintage of Château Petrus from 1945—its first after World War II—to 2016. With the 1945 Petrus being one of the most counterfeited wines in existence, it is extremely rare to have certified-authentic bottles. Guests are excited to see the col-lection, and Pitre takes a few groups down to the cellar to get an up-close look nightly.
It's just another example of Stone-house's commitment to service, as the staff, in Pitre's words, considers it "their job to tend to your every need, so you can be immersed in your dining experience and the people you are with." Santa Barbara and the San Ysidro Ranch should definitely be on your wine travel radar.
https://www.sanysidroranch.com
Visit The Somm Journal for my article